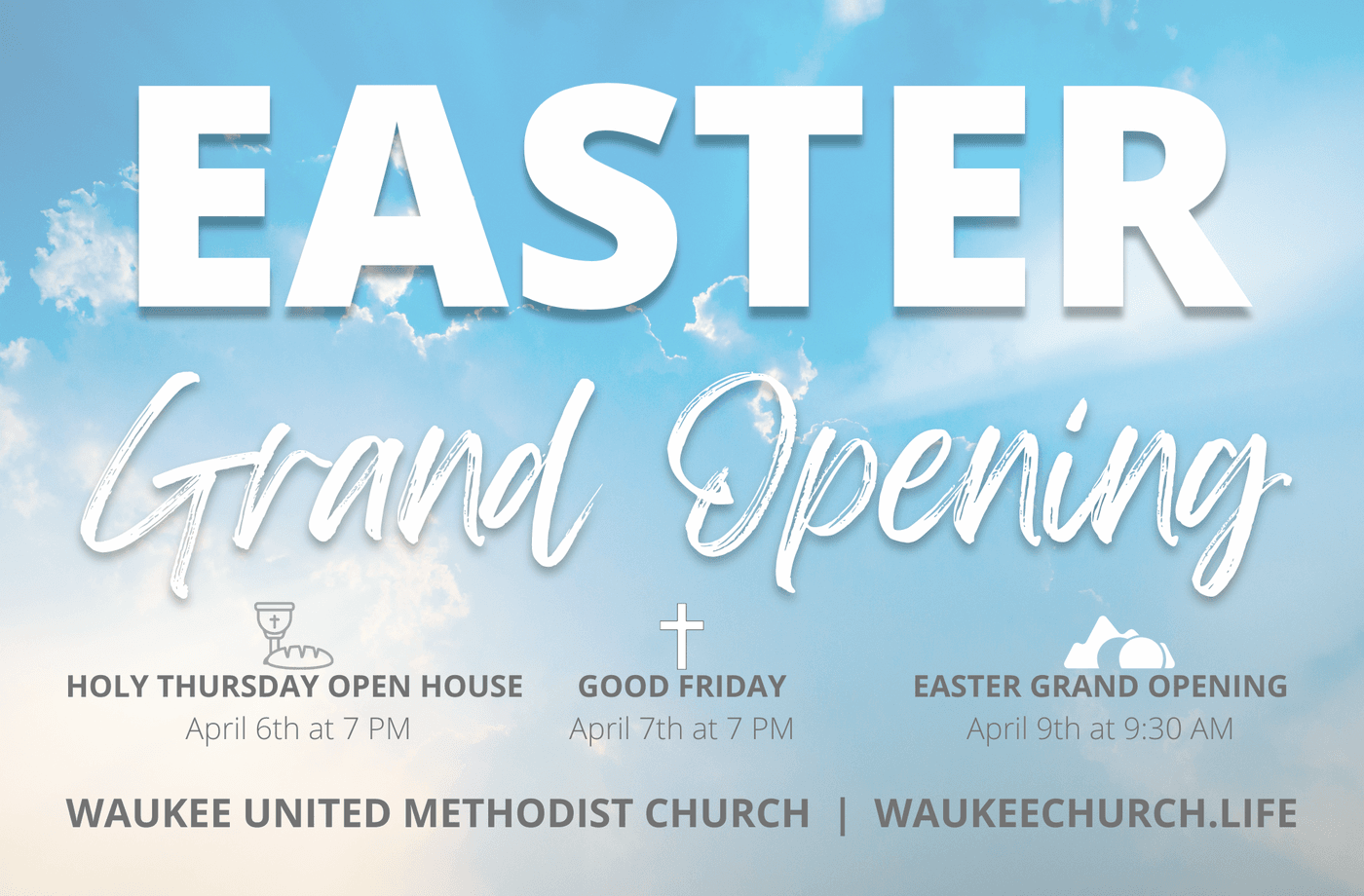 Celebrate our Grand Opening and Easter with us!
Welcome! After 150 years, our congregation had a vision for something new and bought land in 2006 at 2075 SE LA Grant Parkway. Now we're excited to finally celebrate an Easter Sunday Grand Opening on April 9th at 9:30 AM. We'd love for you to be our guest
This is a multi-day celebration. It begins during Holy Week (the week leading up to Easter) with a Holy Thursday Open House at 7 PM on April 6th. We're providing music and food (appetizers, drinks). You're welcome to tour the new facility. We'll have people in each space to greet you and share about opportunities for you and your family. For instance, if you have children or youth you could see the spaces specifically for them and hear about those ministries.
Then on Good Friday, April 7th at 7 PM we'll gather to hear about Jesus' crucifixion and death. This is a powerful and solemn day and very much a part of the Easter story. You might say, without Jesus' death, resurrection isn't possible.
Finally we'll celebrate our Grand Opening on Easter Sunday, April 9th at 9:30 AM. This is a wonderful opportunity to be our guest! We'll sing some wonderful songs, hear the scripture story about Jesus being raised from the dead, and celebrate the life offered to us in Jesus.
Hopefully, you'll experience wonderful hospitality, get a sense of who we are and how you could connect with us, and see the space that we have created not only for our congregation but also for our community.
All are welcome (and all means all). Some people dress up and others dress more casually. Whoever you are and wherever you're from, you are loved by God and we want to meet you!
Questions? Contact us at office@waukeechurch.org or call (515) 987-4531 or jump to the staff page and email one of the specific staff persons.
Come celebrate Easter and our Grand Opening. We welcome you!